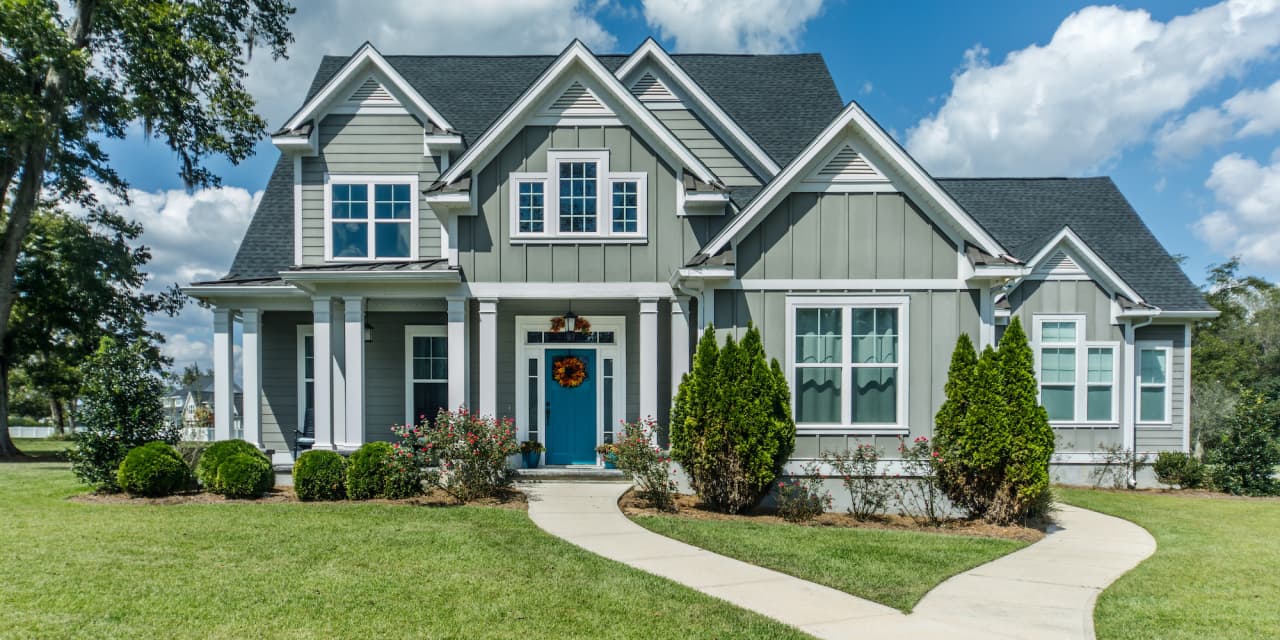 MarketWatch has highlighted these products and services because we think readers will find them useful. This content is independent of the MarketWatch newsroom and we may receive a commission if you buy products through links in this article.
When shopping for a homeowners insurance policy, factors such as location, home value, coverage levels and discounts will determine your quoted homeowners insurance price. In this review, we'll discuss these factors and help you find the best home insurance policy for your home. For the home insurance pricing in this article, we used a home insurance report from the National Association of Insurance Commissioners (NAIC) that was published in January 2021.
To get a free home insurance quote, fill out this easy online form with your ZIP Code or call 855-948-5219.
Average home insurance cost by coverage amount
The national average annual cost of home insurance in 2018 (the latest data available from the 2021 NAIC report) was $1,249, but sorting the premiums by the dwelling coverage amount you select can provide a more accurate prediction of what you might pay. Dwelling coverage reimburses you for any covered damage to the structure of your home, and a premium is the amount of money you pay to keep your policy active.
In the table below, we've listed several dwelling coverage ranges and each range's average monthly premium.
| | |
| --- | --- |
| Amount of dwelling coverage | Average monthly premium |
| $49,999 and under | $645 |
| $50,000–$74,999 | $748 |
| $75,000–$99,999 | $826 |
| $100,000–$124,999 | $937 |
| $150,000–$174,999 | $981 |
| $175,000–$199,999 | $1,018 |
| $200,000–$299,999 | $1,114 |
| $300,000–$399,999 | $1,272 |
| $400,000–$499,999 | $1,482 |
| $500,000 and over | $2,148 |
Average home insurance cost by location
Insurance premiums also vary based on your location. For example, states at a higher risk for severe weather, hurricanes and tornadoes will generally have higher premiums due to the increased risk of property damage. Here's the NAIC data for the average premiums in each state.
| | |
| --- | --- |
| State | Average home insurance premium |
| Alabama | $1,409 |
| Alaska | $984 |
| Arizona | $843 |
| Arkansas | $1,419 |
| California | $1,073 |
| Colorado | $1,616 |
| Connecticut | $1,494 |
| Delaware | $873 |
| Florida | $1,960 |
| Georgia | $1,313 |
| Hawaii | $1,140 |
| Idaho | $772 |
| Illinois | $1,103 |
| Indiana | $1,030 |
| Iowa | $987 |
| Kansas | $1,617 |
| Kentucky | $1,152 |
| Louisiana | $1,987 |
| Maine | $905 |
| Maryland | $1,071 |
| Massachusetts | $1,543 |
| Michigan | $981 |
| Minnesota | $1,400 |
| Mississippi | $1,578 |
| Missouri | $1,383 |
| Montana | $1,237 |
| Nebraska | $1,569 |
| Nevada | $776 |
| New Hampshire | $984 |
| New Jersey | $1,209 |
| New Mexico | $1,075 |
| New York | $1,321 |
| North Carolina | $1,103 |
| North Dakota | $1,293 |
| Ohio | $874 |
| Oklahoma | $1,944 |
| Oregon | $706 |
| Pennsylvania | $943 |
| Rhode Island | $1,630 |
| South Carolina | $1,284 |
| South Dakota | $1,280 |
| Tennessee | $1,232 |
| Texas | $1,955 |
| Utah | $730 |
| Vermont | $935 |
| Virginia | $1,026 |
| Washington | $881 |
| West Virginia | $970 |
| Wisconsin | $814 |
| Wyoming | $1,187 |
Texas, Florida, Oklahoma and Louisiana have some of the highest insurance premiums in the nation, while states like Oregon, Utah and Nevada carry lower premiums since hurricanes, flooding and tornadoes don't pose a threat in those areas.
Most expensive states for home insurance
Texas: $1,955 per year
Florida: $1,960 per year
Oklahoma: $1,944 per year
Least expensive states for home insurance
Oregon: $706 per year
Utah: $730 per year
Nevada: $776 per year
Additionally, your location within a state is one of the biggest factors that can affect your home insurance price. In densely populated urban areas, real-estate prices and construction costs tend to be higher, and the coverage you need is directly tied to the value of your home. If you live in an area with high real-estate prices, you'll end up paying more for home insurance because it will cost more money to rebuild your home.
What's included in a home insurance rate?
Home insurance coverage is divided into six categories. Here's an overview of each type of coverage:
Dwelling coverage — This type of coverage (coverage A) protects the structure of your home, its foundation, its interior and exterior walls and other items built within the home.
Other structures coverage — Also known as coverage B, other structures coverage protects structures that are detached from your home, such as sheds and fences. This coverage is typically 10% of your dwelling coverage.
Personal property coverage — Personal property coverage (coverage C) protects your personal belongings, both inside and outside your home. If you suffer a covered peril that damages or destroys your belongings, coverage C will pay to repair or replace your belongings. This coverage is typically 50% of your dwelling coverage.
Loss of use/additional living expenses coverage — This coverage (coverage D) pays for expenses if you have to temporarily evacuate from your home. It can pay for meals, hotel rooms, laundry fees and other living expenses.
Liability coverage — Liability coverage (coverage E) pays for liability costs if a guest is injured in your home. It also covers replacement costs for someone's belongings that are damaged in your home.
Medical payments to others coverage — This coverage (coverage F) pays for medical bills if someone is injured in your home and it's not your fault.
Types of home insurance coverage levels
Homeowners insurance policies have three different levels of coverage: actual cash value, replacement cost and guaranteed replacement cost. You will almost always have the option to pay extra on your monthly premium for a higher level of protection.
Actual cash value
This is the lowest level of protection and the most affordable. With an actual cash value policy, your insurer will pay you for what your belongings and/or home is worth, minus depreciation. Replacing what you've lost will often cost more than the amount for which you're reimbursed.
Replacement cost
This medium level of protection will carry a higher premium than a policy that pays actual cash value because the depreciation isn't factored in. This will pay for the cost to rebuild your home or replace your possessions without depreciation.
Guaranteed replacement cost
This is the highest level of protection and is generally more expensive than the other two policies. In the event of a covered disaster, such as a hurricane or tornado, construction costs will often be more expensive than usual. This level of protection will rebuild and replace your possessions even if the cost exceeds your policy limits. Many home insurance companies also offer extended limits in exchange for a higher premium, which allows homeowners to receive more coverage.
Factors that affect the cost of home insurance
Homeowners will receive a quoted rate for home insurance based on a variety of factors. Here are some factors that can drive your home insurance price higher or lower:
Location: As previously mentioned, where you live will affect your home insurance price. If you live in a state more prone to natural disasters, your insurance rate will be higher.
Credit history: Homeowners with good credit will enjoy a lower insurance rate.
Price of your home: A more expensive home will cost more to rebuild, resulting in a higher quoted rate.
Level of coverage: Choosing guaranteed replacement cost coverage will replace your possessions, even exceeding your policy limits, but you'll pay a higher monthly premium.
How to save on a home insurance policy
From discounts to choosing a higher deductible, here are a few ways you can save money on your home insurance policy.
Check your deductible: Most homeowners insurance plans allow you to choose your deductible. Common deductibles are $500, $1,000, $2,500 or a small percentage of your dwelling coverage. If you can afford a higher deductible, you can save money on your monthly premium.
Maintain a good credit score: Insurers use your credit rating and credit history to determine the price of your home insurance policy. Maintain your credit by paying your bills on time and keeping your credit balances low.
Shop around: If you're about to purchase home insurance or you already have home insurance but want to save money on your premiums, we recommend getting quotes from several providers to compare prices. One easy way to compare prices across providers is to call 855-948-5219 or fill out this simple online form with your ZIP Code and some basic information about your home.
Home insurance discounts
Most providers offer several discounts, such as bundling insurance policies and signing up for autopay. Here are a few common discounts offered by home insurance companies:
Home safety devices: Any systems or safeguards in your home that protect against fire, theft or wind damage will often decrease your monthly premium. Examples include, but are not limited to: fire extinguishers, wind-resistant roofing, indoor sprinkler systems, fire alarms, burglar alarms, professional monitoring devices, security cameras and deadbolt locks.
Multi-policy bundling: Almost every major home insurance provider offers a variety of insurance products and services, including auto insurance, renters insurance and life insurance. If you combine your home insurance with car insurance or another insurance type, you can save money on your policy.
New construction: If your home was recently constructed, it's less susceptible to damage than a home constructed in the 1920s. Discounts for newly constructed homes are the most generous of all discounts for homeowners insurance, so if your home is new, check with your insurance provider about a possible discount.
Frequently asked questions about home insurance
Does home insurance cover appliance breakdowns?
No, home insurance will only pay for repairs and replacements if the damage was caused by a covered peril. Routine breakdowns due to normal wear and tear are not covered by home insurance, but they are often covered by a home warranty.
Which homeowners insurance company is best?
There are several reputable national providers that we recommend, but in our review of the best home insurance companies, Allstate scored the best and was our top pick for homeowners insurance. To get a free quote from Allstate, fill out this simple online form.
Is home insurance mandatory?
Home insurance isn't required by law, but lenders can require you to have a home insurance policy if you have a mortgage. Even if you aren't required to hold a policy in your state, we recommend getting home insurance to provide peace of mind and protect your home and its belongings.