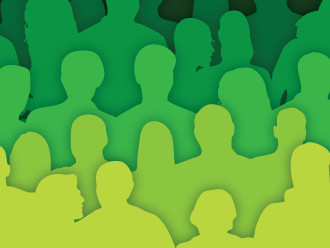 Banking & Finance
Central Bank of the Ozarks promoted Carolyn Gentry to assistant vice president/retail sales manager. Previously the training manager, she now oversees the bank's retail sales, service and operations, and assists banking center managers and their teams. She has 20 years of banking experience, including 15 years with Central Bank.
Hawthorn Bank promoted Jonathan Brown to mortgage sales manager of the southern Missouri region. Brown has worked in mortgage banking since 2014 and joined Hawthorn Bank in January 2020.
Simmons Bank was named to Forbes magazine's list of the World's Best Banks for the second year in a row. The recognition is based on surveys conducted by Forbes and Statista that evaluated feedback from 43,000 banking customers across 28 countries on such topics as trust, terms, customer service, digital service and financial advice.
Media
Springfield Business Journal promoted Editorial Director Eric Olson to editorial vice president-external relations and Features Editor Christine Temple to executive editor. A 20-year SBJ employee, Olson serves as editorial liaison to the business community, works with contributors for writing and research projects, and handles copyediting and special products. Temple, a three-year employee with eight years in the industry, is responsible for the management of the newsroom personnel and print and digital products.
Mediacom Communications Corp. was selected as a 2021 U.S. Best Managed Company by Deloitte Private and The Wall Street Journal. Based on the key categories of strategy, execution, culture and financials, a panel of independent judges chose 49 private businesses with annual revenues of at least $250 million.
Nonprofit
Habitat for Humanity of Springfield added Brian Johnson as controller, Jenna Pfeifer as operations manager and Daniel Schekorra as brand manager. With experience as a chief accountant, most recently for the Branson Convention Center, Johnson is responsible for Habitat Springfield's accounting and finance. Pfeifer previously worked as Pension Consultants Inc.'s chief financial officer. She's responsible to lead the design, management and improvements of Habitat's systems. Schekorra has seven years of experience in marketing with specializations in content creation, design, analytics and marketing strategy. He's responsible for identifying and expanding organizational brand awareness.
Laura Farmer, executive director of Court Appointed Special Advocates of Southwest Missouri, was appointed to CASA's National Leadership Council. The 15-member NLC represents the interest and views of a national network of CASA and guardian ad litem programs. Farmer has served on the National CASA/GAL Urban Leadership Council the past year.
Efactory Director Rachel Anderson joined the Greater Missouri Alzheimer's Association Board of Directors. She's a co-founder of the Rosie networking group and Alumni Spaces startup, and also serves on the board for the Gillioz Theatre, The Network and Springfield Creatives.
Real Estate
United Appraisal Group owner Randall Walker, of Shell Knob, was appointed to the Missouri Real Estate Appraisers Commission. Since 1991, he's worked on appraisals of agricultural, commercial, industrial and residential properties, and he's served as chairman of the Aurora Planning and Zoning Board of Adjustment and Planning and Zoning Commission. Walker holds a bachelor's in business administration from Drury.
Telecommunications
Khris Stillman joined Russell Cellular Inc. as area vice president for the newly established agent partner program. Stillman has nearly 30 years of technology sales and strategy experience, most recently as director of indirect sales for Verizon Wireless, where he's worked the past 24 years.
[ad_2]
Originally Appeared Here