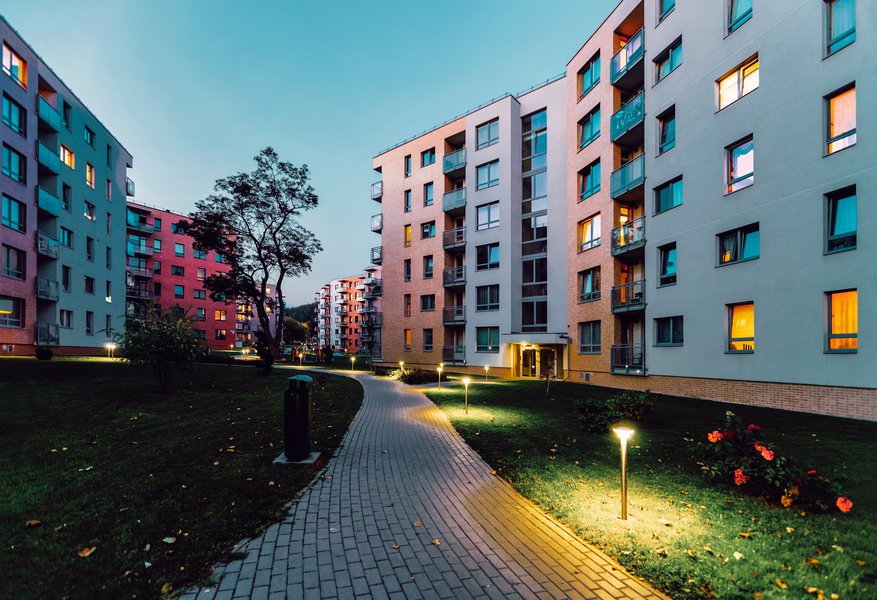 If you're looking to build a seven-figure portfolio, adding some good income-producing real estate investment trusts (REITs) can help. The key is to find ones with a mixture of a strong portfolio and growth opportunities. The coronavirus pandemic has a lot of people talking about Mid-America Apartment Communities (NYSE: MAA) on that score. That's fair, but don't think it's a COVID-19 play, because the REIT was well-positioned even before the global health scare.
What it does
Mid-America Apartment Communities' name says a lot about its business. For starters, it's an apartment-focused REIT. Second, its primary focus is on the U.S. Sun Belt, not the big coastal cities that are the core property markets for many of its peers. This combination turned out to be perfect for the coronavirus, which tends to spread easily in locations with a lot of people (like big cities).
Indeed, as people looked to get away from places like New York City, Boston, and Los Angeles, they moved to more rural areas that Mid-America served. This is no small matter and worth a comparison.
AvalonBay Communities (NYSE: AVB), one of the best-run coastal-focused apartment landlords, saw its net operating income (NOI) fall 6.4% year over year in 2020. Every major region in which it operates declined, with particular weakness in California and New York. That's not surprising given the pandemic backdrop. Mid-America, on the other hand, saw its NOI increase by 1.2% last year.
Mid-America's portfolio contains roughly 100,000 apartments across 16 states and the District of Columbia. Its primary focus is on the Southeast, Southwest, and Mid-Atlantic regions. In other words, there's a fair amount of diversification in the mix here, so it isn't reliant on just one market.
The key, however, is that most of its properties fall into the Sun Belt region, which has seen population growth for many years as people migrate to lower-cost regions with pleasant weather. These areas benefited from the pandemic, but what was really going on was the amplification of a trend that had been in play for a long time.
A snapback?
That said, investors looking at Mid-America Apartment Communities today should probably be ready for a lull in demand. Yes, during the pandemic people moved into the regions the REIT serves. However, that probably resulted in an artificial bump that will reverse a bit as vaccines lead to a reopening of coastal cities. In other words, Mid-America's performance stood out in 2020, but it might end up looking like a laggard in a year or two as big cities come back to life. But that doesn't mean the long-term shifts management is working to take advantage of are over.
This is where the story gets more interesting. Right now, Mid-America Apartment Communities offers a dividend yield of around 2.6%. That happens to be near the lowest levels in the company's history. Given how well the business performed during the pandemic, this is hardly surprising. But it also means that right now may not be the best time to buy the stock, since it looks expensive, using yield as a rough gauge of valuation.
Moreover, if coastal cities start to come back to life, making Mid-America Apartment Communities look like it's falling behind, the stock could cool off. But that doesn't mean its core markets will necessarily be struggling, just that big cities are roaring back. So there's likely to be ongoing underlying strength that investors could miss here as their focus shifts to the rebound in other areas. And that could eventually make Mid-America Apartment Communities a relative bargain.
In other words, this REIT could be a millionaire-maker stock, but you have to make sure you buy it at the right price.
Now what?
Mid-America is a well-run apartment REIT that's benefited from being in the right places at the right time. Investors have bid up the shares accordingly, and anyone with even a slight value focus will probably want to put this name on their wish list, not the buy list. But given the long-term trend of people moving to the Sun Belt regions that Mid-America serves, you shouldn't just ignore it. It could very well help you build a million-dollar portfolio — if you wait for a good time to buy it. On that score, a yield closer to the 4% space would probably represent a solid buying opportunity.
[ad_2]
Originally Appeared Here