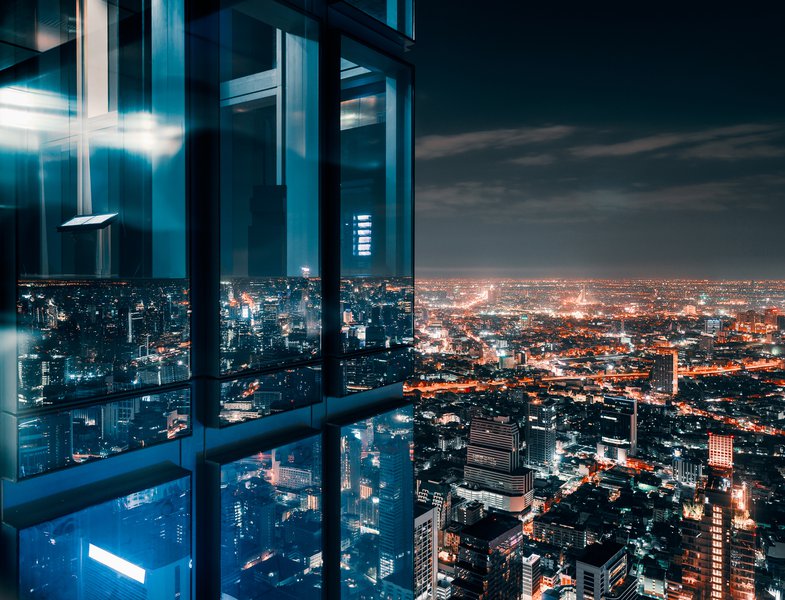 While Columbia Property has a diversified tenant base by sector, its 20 largest tenants contribute 49.6% of its ALR. Social media giant Twitter (NASDAQ: TWTR) led the way at 6.1% of its ALR and 5% of its leased square footage. Other notable tenants include BNY Mellon (NYSE: BK) subsidiary Pershing LLC, at 5.5% of its ALR and 10.3% of its leased square footage; Yahoo!/Verizon (NYSE: VZ) Corporate Services, at 4.8% of its ALR and 4.2% of its leased square footage; and Wells Fargo Bank (NYSE: WFC), at 4.7% of its ALR and 8.1% of its leased square footage. If any of these large tenants shrink their office space needs or decide not to renew their leases, it could negatively impact Columbia's rental rates and occupancy level.
Development projects are a significant aspect of Columbia's strategy. The REIT entered 2021 with five development, redevelopment, and expansion projects underway or in the pipeline.
It had two projects under construction:
779 Broadway development: A ground-up development of a 12-story office building in New York City. It will contain 182,000 square feet of boutique office space when completed in the summer of 2021. Columbia had yet to lease any space in this $151.5 million speculative development project as of early 2021.
80 M Street Expansion: A 105,000-square-foot expansion of an already well-leased building in Washington, D.C. It pre-leased 60% of the space and expects to complete the $95.8 million project in 2022. It's the first project in D.C. to feature environmentally-friendly mass timber construction.
Columbia has three additional projects in the pipeline in the New York City area:
149 Madison: An opportunity to fully modernize a 12-story, boutique-sized office building on a prime corner.
Terminal Warehouse: The opportunity for a signature boutique office, retail, and events destination with up to 1.1 million square feet of creative office space and 75,000 square feet of retail.
101 Franklin: The opportunity to completely redevelop a 16-story office building.
The REIT currently hasn't leased any space in these properties, nor does it have a construction timeline.
Columbia Property Trust news
An investor group that already controlled 3.3% of Columbia Property Trust's outstanding shares offered to take the office REIT private in early 2021. They submitted a nonbinding offer to purchase the shares they didn't already own at $19.50 a share, valuing Columbia at $2.24 billion. In response, Columbia retained financial and legal advisors to assist it with a thorough strategic review process. It didn't set a timetable for completing the review and made no assurances this process will result in any transaction, including a sale, privatization, or other business combination. It's the second time the REIT received takeover interest in recent years, with it having explored a deal in 2018 following a takeover approach.
The renewed takeover interest in Columbia comes after a challenging year for the office sector in 2020 due to the pandemic. Columbia weathered this storm relatively well as its normalized funds from operations (FFO) increased slightly from $1.50 per share in 2019 to $1.52 per share in 2020. The REIT benefitted from an 8.7% increase in same-store net operating income (NOI), which offset a lower rental-collection rate because of the pandemic.
Columbia Property also completed several transactions last year to refocus and enhance its portfolio and growth prospects. It closed the sale of two wholly-owned properties in Los Angeles and Pittsburgh for $258 million in gross proceeds. It also sold a 45% stake in an office building in San Francisco to a joint venture partner, recognizing a gain of $175.3 million. It used these sales to enhance its balance sheet and fund growth-focused investments.
The REIT also closed its $100 million acquisition of Normandy Real Estate Management in 2020. That transaction included an operating platform and general partner interest in three active management funds. Normandy had a long history of acquiring, developing, redeveloping, repositioning, and managing real estate assets in New York, New Jersey, Boston, and Washington, D.C. The acquisition included the Terminal Warehouse and 799 Broadway development projects.
Columbia Property Trust stock price
Columbia Property Trust's strategy of shifting its focus to owning and managing office properties in major gateway cities hasn't created much value for its shareholders in recent years:
[ad_2]
Originally Appeared Here