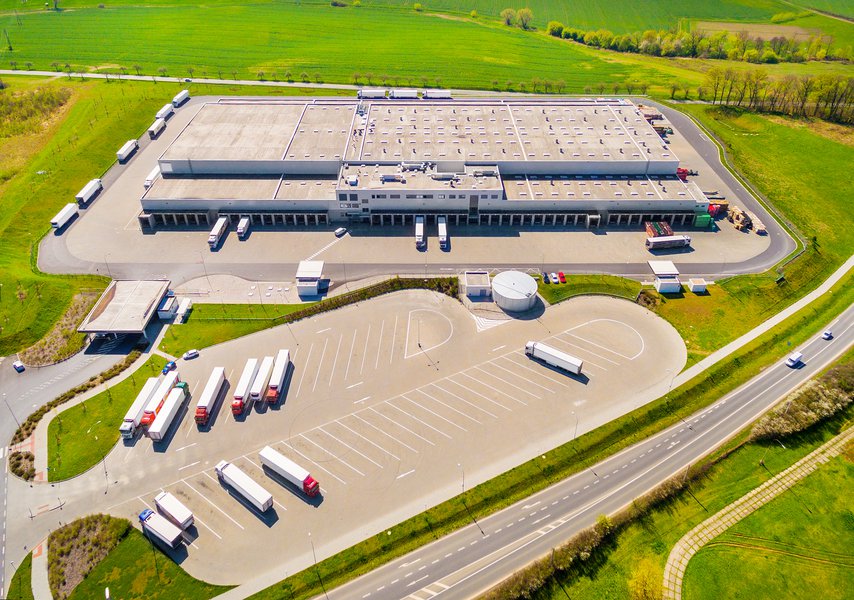 So, I took on this assignment about "3 Industrial REITs to Buy in June" and was wondering which companies to write about when it was spelled out in front of me.
Actually, it was right below me. We were in our final approach to Atlanta Hartsfield and "Duke Realty" was painted in huge letters across the roof of a large, low building surrounded by trucks.
So, why not? Duke Realty (NYSE: DRE) is a fine example of that subset of real estate investment trusts (REITs) known as industrial REITs, who focus on properties like warehouses, self-storage centers, factories, and distribution facilities.
Some specialize in a single type of industrial tenant, while some have a wide range of properties and clients. Let's take a look at three different candidates that could make a nice buy and hold in June.
Duke Realty
Indianapolis-based Duke Realty was founded in 1972 and went public in 1993. It now owns or has an interest in 543 properties covering 162 million square feet and describes itself as the "largest domestic-only logistics REIT in the business of developing, redeveloping, acquiring, and managing premier logistics real estate facilities in key logistic nodes across 19 markets in the U.S."
Duke Realty also is working to grow its portfolio, and thus its revenue, including investing $412 million in development starts in the first quarter alone, with a pipeline of $1.4 billion that's already 65% leased and land inventory that's 88% in coastal Tier 1 markets.
Duke Realty stock closed at $46.46 per share on May 28, a shade under its 52-week high of $46.86 per share hit on May 3. Its 52-week low was $34.01 reached on June 30, 2020. The market's confidence in this firm is reflected in how much of its stock is held by institutions: 98.71%. And only 1.34% is held as short interest. The yield, meanwhile, is 2.20%, not bad considering how well the stock price is doing, and Duke Realty has grown its dividend an average of 7.63% a year for the past six years.
Innovative Industrial Properties
Innovative Industrial Properties (NYSE: IIPR) is in a special niche. The San Diego-based REIT buys and leases back facilities to licensed growers of medical marijuana under long-term, triple net leases. It also provides financing to growers, giving it even more sway in a fast-growing business that still suffers from a paucity of lenders willing to flaunt the continuing federal ban on legal marijuana.
The company was founded in 2016 as the first publicly traded company of its kind, and as of May it had 69 properties in 18 states, representing 6.2 million rentable square feet that's 100% leased at an average weighted length of 16.7 years.
Just like the legal marijuana business itself, Innovative Industrial Properties' sales are rapidly growing, as is its portfolio, including three properties added just in May.The company's stock closed on May 28 at $180.23 per share, 18.85% below its 52-week high of $222.08 per share reached on Feb. 24 and more than twice its 52-week low of $80.50 from May 29, 2020. Even now, that's still far more expensive relative to earnings than the typical REIT, as Motley Fool's Zhiyuan Sun points out here.
And even with that relatively high price, the stock is currently yielding 2.93% based on an annual dividend of $5.28 per share. It's grown the payout each year for the past three years and only paid its first dividend in 2017 soon after going public. This stock has the feel of what could be a long-term winner.
Terreno Realty
Terreno Realty (NYSE: TRNO) is a San Francisco-based owner and operator of industrial properties that it describes as "functional, flexible, infill real estate located at the intersection of growing demand and limited, or even shrinking, supply."
Terreno invests solely through its Six-Market Strategy, those markets being Los Angeles, northern New Jersey/New York City, the San Francisco Bay area, Seattle, Miami, and Washington, D.C. — each of those with large, growing populations; highly developed air, sea, and land infrastructure; and physical and regulatory barriers to competition that want to set up shop there, too.
The company's tightly focused portfolio currently consists of 230 buildings with 14 million square feet occupied by 519 customers and another 25 improved land parcels ready for development. It's also on a buying spree, adding two more properties just in May and several more earlier this year.
Terreno Realty stock closed on May 28 at $63.62 a share, just off its May 10 52-week high of $64.87 and well above its 52-week low of $50.78 on June 12, 2020. The annual dividend, meanwhile, is currently $1.16 per share, good for a yield of 1.82%. That yield has grown an average for 10.06% a year for the past five years.
The Millionacres bottom line
Each of these three industrial REITs have their own reasons for optimism and their own risks, including competition and market saturation. They also look like growth stocks — especially Innovative Industrial Properties — that are spinning off income. That makes them like other dividend-paying stocks that should be able to withstand market fluctuations reasonably well while maintaining a generally upward trajectory.
[ad_2]
Originally Appeared Here