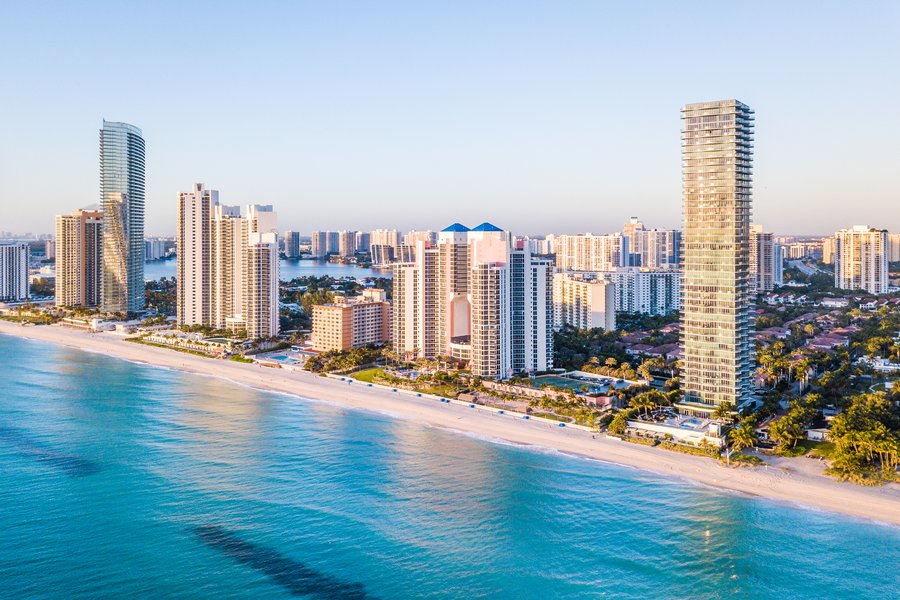 Anchor industries
It's no surprise that Miami is considered the best city for business in Latin America, but its geographic location and economic diversity also makes it the No. 1 city for start-up activity and sixth overall city for small business, according to the Kauffman Foundation. Here are a few of Greater Miami's anchor economic industries and employers.
Travel, leisure, and hospitality: Tourism, travel, and hospitality make up a huge portion of Greater Miami's economy. While this line of businesses has suffered tremendously since the start of the coronavirus pandemic, signs of recovery are on the horizon. Miami is the global headquarters for four travel and cruise-related companies, including Norwegian Cruise Lines (NYSE: NCLH); Interval Leisure Group, part of Marriott Vacations Worldwide (NYSE: VAC); Carnival Corp. (NYSE: CCL); and Royal Caribbean Cruises (NYSE: RCL).
Logistics and distribution: Miami's location makes it an ideal international logistics and distribution center for the South. American Airlines Group (NASDAQ: AAL), Air Transport Services Group (NASDAQ: ATSG), DHL (OTCMKTS: DPSGY), and UPS (NYSE: UPS) all have regional headquarters here.
Medical and healthcare: Baptist Health South Florida is the largest employer in the Greater Miami area, having just under 12,000 employees. However, several other hospitals and medical facilities are in the top 10 employers in the area.
Banking and financial services: Miami serves as a financial hub for the world, allowing businesses to operate internationally. Citigroup (NYSE: C), Wells Fargo (NYSE: WFC), Bank of America Merrill Lynch (NYSE: BAC), JP Morgan Chase (NYSE: JPM), and countless numbers of hedge funds and investment firms have offices or regional headquarters in the Greater Miami area.
Schools of note
Greater Miami is home to several public and private colleges. Florida International University (FIU) is one of the top 10 largest public universities in the country, with roughly 55,000 students in attendance. There's also the private University of Miami (UM), which has around 17,000 students enrolled and is located in Coral Gables, a suburb of Miami. The public Miami Dade College has around 85,000 students enrolled.
There are also several smaller private colleges in the area, such as Barry University, Nova Southeastern, and St. Thomas University, among others. However, their enrollment numbers are considerably smaller compared to the public colleges in the area.
Neighborhoods of note
Greater Miami's multicultural makeup brings diversity to the area, with distinct neighborhoods having large concentrations of different ethnicities residing in popular neighborhoods like Little Havana and Little Haiti. Condos and hotel communities are a popular method of owning real estate here, especially near the beach, with concentration of multifamily properties in the city and single-family homes on the outskirts, at the oceanfront, and in the suburbs.
Because the majority of Miami's residents earn $100,000 or more in annual income, real estate is more expensive here, but neighborhood price points can range widely. Investors can find properties from the low $100s to multimillion-dollar condos, mansions, and waterfront villas.
Short-term rentals and vacation homes are also a strong business here because of Greater Miami's tourism industry. Second homes are also common here as snowbirds seek warmer weather in the winter.
Below are a few neighborhoods of note in the area that are of particular interest to real estate investors.
Miami-Dade
Wynwood/Allapattah
If you've ever visited Miami, there's a good chance you visited the up-and-coming neighborhood of Wynwood. Known for being the hot new arts district, this area has dozens of new developments popping up, with hip new shops, restaurants, bars, and art galleries on every corner. Ten to 20 years ago, this was the neighborhood to invest in, but prices have inflated to match demand and subsequently priced out most investors. This is why many investors look to the neighborhoods just north of Wynwood, called Miami Design District/Buena Vista and the neighborhood adjacent to Wynwood called Allapattah.
Allapattah has a range of duplexes, single-family homes, and multifamily properties, making it a good fit for both fix-and-flip investors and long-term rental landlords. With prices starting in the mid-$200s and going up to the mid- to upper $500s, there's room for a return, considering rental rates range from $1,100 to $1,600.
Coconut Grove
Coconut Grove is located in the southern part of Greater Miami and neighbors the popular and luxurious area of Coral Gables, home to a renowned country club and mostly multimillion-dollar homes. For students attending UM, this is a more affordable option than Coral Gables itself and still within a relatively short distance to school. Properties range from the low $200s to upper $300s, meaning the purchase price is affordable as it relates to rents, which range from $1,300 to $1,800.
Bayshore
If beachfront condos and vacation rentals are your focus, Bayshore is the neighborhood for you. Located on Miami Beach, Bayshore is mostly made up of large condo and residential complexes but without the high price tag of other Miami beach neighborhoods. Condos run in the mid-$200s to low $400s, but rents range from $1,600 to $1,900 for long-term rentals and around $100 to $125 per night for vacation rentals, depending on the time of year and size of unit.
University Park and Town Park Estates
The area surrounding FIU is a great neighborhood for landlords who invest in student housing. Considering the number of students who attend the university, there is consistent long-term demand. Homes range from $150,000 to $300,000 for a condo and mid-$400s to upper $500s for a single-family home or duplex, meaning the spread isn't great, with rents ranging from $1,000 to $2,000, depending on condition, size, and property type.
Broward County
Central Beach Alliance
Central Beach Alliance is made up of mostly beachfront high-rise condos, making it an ideal investment for a short- or long-term rental property. Condos range from upper $200s to mid-$400s, and nightly rates range from $130 to $200 per night, so there's decent return potential, depending on the investment strategy.
Riverland
Riverland is a mixed residential area, made up of both multifamily units and single-family homes with a moderate price tag, making it a good spot for fix-and-flip investors and long-term landlords. Property values range from mid-$300s to mid-$500s, meaning investors have to be selective about property prices, depending on the exit strategy.
Palm Beach County
Northwood
North of West Palm Beach is the area of Northwood, which includes several distinct neighborhoods, all boasting the name "Northwood" in some form or fashion. Properties include a mix of single-family homes, duplexes, triplexes, and larger multifamily homes and is an ideal area for fix-and-flippers or rental investors. Properties can sell between the low $200s to upper $400s, depending on the property type, neighborhood, or size, with rents ranging between $1,400 to $2,000. Keep in mind the closer to Poinciana Park and Northwood Pines, the more expensive the homes get.
Lakeworth
Lakeworth isn't a neighborhood but rather a city in Palm Beach County just south of West Palm Beach. The city has a mix of single-family residential and multifamily properties at a much more affordable rental price compared to neighboring West Palm Beach to the north and Delray Beach to the south. Investors need to do their due diligence on prospective neighborhoods carefully, as some pockets are prone to higher crime and blighted homes, but the dollar and rent go a long way here.
The Millionacres bottom line
Miami is definitely a hot investment area right now, but investors should carefully consider their investment before buying, considering the general volatility of the local market. Where and what you invest in greatly determines the potential success as a real estate investor here.
Investors also need to consider environmental factors such as hurricanes, flooding, and rising water levels related to climate change. Miami has long battled flooding issues with the daily rising tides, spending trillions of dollars over the past decade and having rectified very few of the issues.
Miami's economic industry does give validity to the real estate market, but it seems the demand is driven much more by foreign interest than economic opportunities for its residents, putting it in a tricky and somewhat risky position for investors to participate in.
[ad_2]
Originally Appeared Here